PAINBASTARD
Interview
What's the story behind Painbastard? Why only one band member?
- I am >painbastard<. >painbastard< is my «alter ego» and stands for the pain inside of me and the pain I feel. Sometimes I hated myself for that so much that I called me «bastard».
- I cannot stand other pers around me when I create my songs. It is too personal and I cannot share these feelings with other persons by creating my songs and lyrics. So I prefer to work alone 'cause the result is definitely me...100 % and no compromise.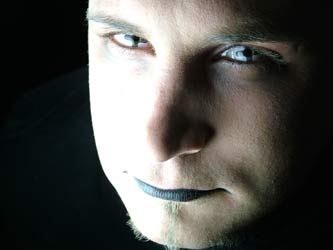 Who was your main influence(s) to start working on your own songs?
- I had some influences when I've started making music. Some bands / musicians of the early 90s like Wumpscut, Leather Strip, Projekt Pichtfork, etc...are some examples for that. Now I only have one influence: My daily life.
The song Torn is a colaboration with Diorama's Torben Wendt. How did you came up with this collaboration?
- I was not able to sing this song. I know Torben for 2 years and he is a very brilliant musician. I like his work and it was a honour to work with him. His voice is magnificent and I thought he will give "Torn" a soul…and he did it.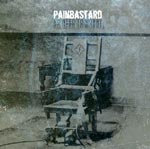 Can we expect in the future some kind of collaboration with other artists on Painbastard releases or maybe a new project?
- New collaborations? Oh yeah! Watch out for the new album
- A new project I will not start 'cause I don't have enough time for that. I will concentrate on >painbastard<and I think that`s enough.
How did you meet Christer of S.P.O.C.K., and how this collaboration started for Poison of your soul - remix?
- First time I met Christer on my concert in Malmö / Sweden in April 2005. There he played with his new project "Biomekkanik". A second time we met in Malmö and had a lunch. Then I met him in Berlin and asked him if he would like to do the remix for me. I know that he is a perfectionist and would do an eccentric but brilliant remix. He did not disappoint me. I wanted to show to Germany that he is alive.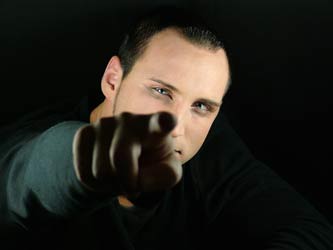 Which is your favourite compilation that you been on?
- Hmm, I don't have a favourite one.
Lots of bands do cover songs? Have you thought about it? Any thoughts who would you love to cover?
- I really thought about that. I plan a cover song for this year but I cannot give away the name of this special cover song, yet. But there are lots of other songs I would like to cover and I will deliberate which song I will choose.
How much is new album No need to worry, produced with software programes and how musc with hardware equipement?
- I used mostly software programes. But not exclusive. I also used hardware equipment and hardware sythesizers. I think the correct mixture is the magic word.
With new album you have been No 1 on DAC. How does it feel?
- I like the feeling and it is my confirmation that I did it right. Furthermore I think it is important to be on charts 'cause it is a way to increase my audience of listeners who did not know my music before.
Is ebm, dark electro, ... part of your everyday life, or do you listen other ganres in electronic music or guitar oriented music?
- I also listen to electronic music 'cause the Electronic scene is my scene. Here I am at home. And I listen to lots of other music of different genres for instance Metal, Crossover, Hardcore, Pop, ect...
New album is at times very melancholic/melodic and on the other hand very hard/dark. Is this the concept you will also use in the future?
- I didn't call it concept: It is life. Yesterday is not today and today cannot be tomorrow. It is the same with my music. Sometime I fell aggressions, sometimes I am riven by grief and that's exactly the reason for the change of the mood in my songs.
Your second album Ovekill was licensed to Russia. What about USA? Any talks with labels overseas?
- I would like to license it to USA. But I have no influence to that and hope I will happen sometime.
How much did your production changed in last few years, since your first album Skin on fire in 2003.?
- My life changed and so also the production did it. I learned from album to album «the hard way» and that's why it can also get better ;-)
Where do you see Painbastard in 5- 10 years? Do you see yourself to be part of the scene?
- >painbastard< is a part of the scene 'cause I am a part of it. I hope >painbastard< will be established in the next years. I work for it hardly and you have to render your account not without me...
What's next for 2007.?
- This year I will release a new album and make a tour. I will play in Moscow on 30th April it and it will be a pleasure for me. My label and me also plan another surprise for 2007 but a surprise isn't one if I would tell it to you!
Thanx Alex and lot of new DAC no.1-s in the future.
- Have a nice day!!!
Interview made with Alex P. in March 2007. by Danijel Levatic for Elektronski Zvuk.